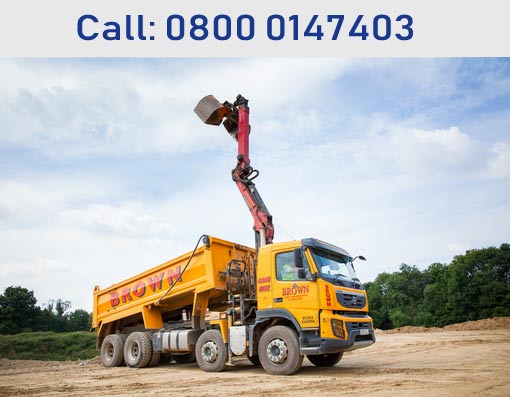 Our Grab hire services at Claygate offer a variety of services including muck away services. Our methods are very quick, cost-effective and efficient. It might be essential to explain what a grab loader does exactly, before explaining how we conduct our muck away services. A grab truck works for the removal of large amounts of waste and our grab hires are highly affordable.  They operate with a hydraulic arm which means they can pick up waste from the narrowest of places. They also hold massive quantities of waste, compared to other alternatives and our grab hire rates are very affordable.
It can haul grass, soil, concrete from your site at considerable speed. Muck away, which is also sometimes called cart away, is an inert waste removal system that is used by individuals, tradespeople and businesses embarking on a site clearing project. If your project requires the removal of huge amounts of waste from your site, then you are best of hiring one of our Grab trucks to do this at the quickest rate.
Apart from Muckaway services, our grab trucks also offer aggregates supply, fast and efficient waste removal, recycling and proper waste disposal. In Claygate, we offer services to both small and large-scale projects.
P J Brown (Civil Engineering) Ltd
Main Office
Burlands Farm
Charlwood Road
Crawley, West Sussex
RH11 0JZ
Call: 01293 544856
Address
---
P J Brown (Civil Engineering)Ltd
Burlands Farm
Charlwood Road
Crawley, West Sussex
RH11 0JZ
Reg. No: 07185077
Contact Us
---
Main: 01293 544856
Transport: 01293 844210
Accounts: 01293 844212
Email: mail@pjbrown.co.uk