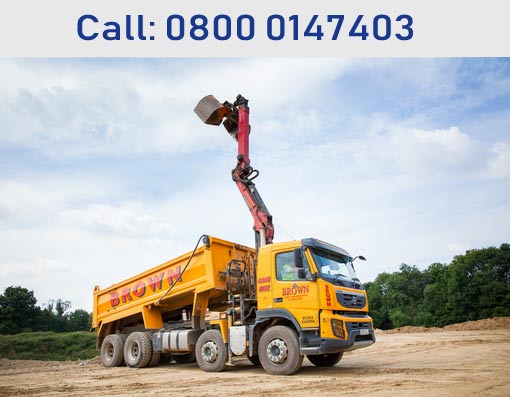 Transport of aggregates is a major service we offer with our grab hire trucks at Hersham. Construction aggregate refers to every kind of construction material that are frequently used in the construction sector, they range from coarse to medium-grained materials, such as slag, sand, geo-synthetic aggregates, gravel, crushed stone.
In construction, aggregates are habitually mixed with lime, bitumen, cement, gypsum, etc., to make mortar or concrete. If you have an on-going construction work in Hersham and you are looking for the right to transport aggregates for your construction business, you will need to contact us and discuss your specific needs. Our grab trucks also offer other services such as fast and efficient waste removal and recycling, proper waste disposal, removal of waste from inaccessible areas etc.
We would convey our grab hire trucks to your site at your earliest convenience.  Our transportation and waste removal procedures are extremely safe, as our staff have been trained to work without any interruptions to your project. We would remove your garden or construction wastes with our grab lorries and many other types of wastes depending on your requirements and specifications. You should call on us if you are currently involved in a large scale project or some kind of overhaul project that needs to have waste hauled out of your site.
P J Brown (Civil Engineering) Ltd
Main Office
Burlands Farm
Charlwood Road
Crawley, West Sussex
RH11 0JZ
Call: 01293 544856
Address
---
P J Brown (Civil Engineering)Ltd
Burlands Farm
Charlwood Road
Crawley, West Sussex
RH11 0JZ
Reg. No: 07185077
Contact Us
---
Main: 01293 544856
Transport: 01293 844210
Accounts: 01293 844212
Email: mail@pjbrown.co.uk