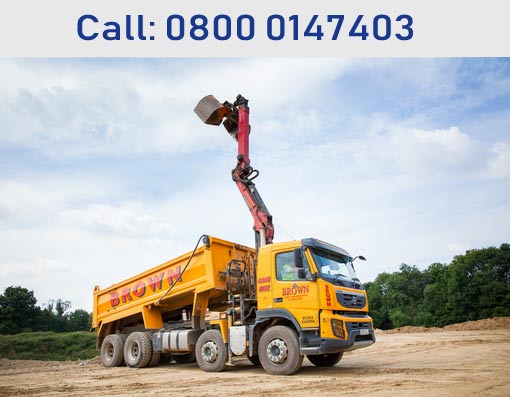 At PJ Brown (Construction) Ltd., we are proud to testify that we have been in this business for numerous years. Ever since our inception, we have been extremely committed to deliver efficient and cost-effective services in terms of waste and rubbish disposal in the Mitcham area. A grab hire service is much more convenient than a traditional skip since it is less expensive. Besides, our lorries are able to access sites which cannot otherwise be reached and they can easily work over fences and walls. Our highly-trained drivers have been working in our field for many years, being certified to operate our vehicles and equipment. They are able to dispose of waste or to transport materials in the most inaccessible locations.
Our reputation as a top grab hire service provider in Micham speaks for itself. We have an increasing client base which is happy to refer us to their clients, business partners and family members. Our commitment to ensuring that each of our clients is happy with our service is second to none. At the same time, we know the importance of having a clean environment and we recycle as much as possible the waste we transport and dispose you of.
If you would like to learn more about the grab hire services we offer in Mitcham, please do not hesitate to get in touch with our team.
P J Brown (Civil Engineering) Ltd
Main Office
Burlands Farm
Charlwood Road
Crawley, West Sussex
RH11 0JZ
Call: 01293 544856
Address
---
P J Brown (Civil Engineering)Ltd
Burlands Farm
Charlwood Road
Crawley, West Sussex
RH11 0JZ
Reg. No: 07185077
Contact Us
---
Main: 01293 544856
Transport: 01293 844210
Accounts: 01293 844212
Email: mail@pjbrown.co.uk