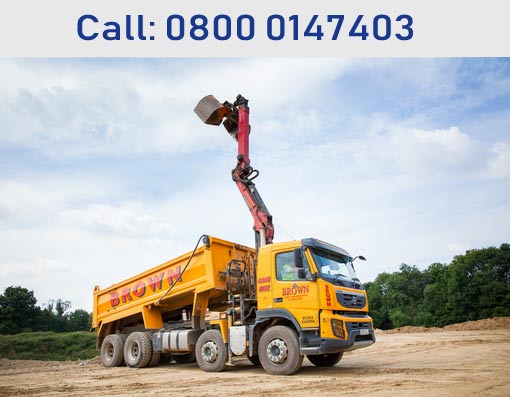 PJ Brown (Construction) Ltd. is ready to dispose of the waste from your location, representing the most cost-effective and fastest disposal service provider in our area. Our team can separate the waste from your site from the one which is appropriate for recycling or recovery. This implies that we care for the environment, making sure, at the same time, that all of our clients profit from a quality waste disposal service at cost-effective rates. Being rapid, efficient and capable, our staff quickly finish the task they were hired to do. In only a matter of hours, your site will be clean, leaving you with a full pocket and ready to continue with your business.
No matter how heavy the construction or garden waste is from your site, we will work extremely hard to do our job. This way, without having to worry about bureaucracy or other inconveniences, you can concentrate on your business or life without worrying about how to get rid of the waste! Our grab hire services include disposing of muck, soil, green waste such as hedge trimmings or grass, as well as hardcore aggregates, like topsoil or concrete.
Please get in touch with us now if you need to contract a grab hire provider in Thornton Heath!
P J Brown (Civil Engineering) Ltd
Main Office
Burlands Farm
Charlwood Road
Crawley, West Sussex
RH11 0JZ
Call: 01293 544856
Address
---
P J Brown (Civil Engineering)Ltd
Burlands Farm
Charlwood Road
Crawley, West Sussex
RH11 0JZ
Reg. No: 07185077
Contact Us
---
Main: 01293 544856
Transport: 01293 844210
Accounts: 01293 844212
Email: mail@pjbrown.co.uk