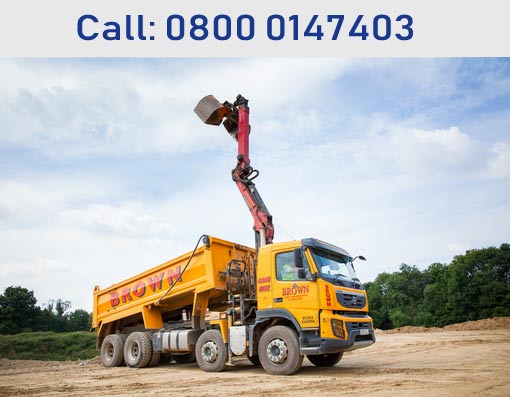 Welcome to P J BROWN (CIVIL ENGINEERING) LTD.
Are you residing in Arundel and looking for a faster way to supply or move loads and materials? Here at P J BROWN (CIVIL ENGINEERING) LTD, we have a wide range of tippers on hire that meets your requirement irrespective of budget and needs.
We offer an affordable yet sustainable way of removing soil, waste, debris, materials, etc. from your construction sites, making your construction site clean and clear. If you're a supplier, you can use our tippers to move your supplies around Arundel at cost-effective rates.
Whether you live in Arundel or surrounding counties, our tipper hire services are perfect for collecting, moving, or delivering materials of various weights.
More so, we have tipper drivers who are friendly and professional with many years of experience. Our tipper drivers are well-trained to the highest standards and can operate tippers on any kind of construction sites. We are also a licensed waste carrier in Arundel. When you hire us for waste disposal (green waste or demolition waste), we guarantee that the waste disposal would be done in line with Health and Safety regulations and the UK's latest waste disposal compliance measures.
Get in touch with P J BROWN (CIVIL ENGINEERING) LTD to discuss your tipper hire requirements.
P J Brown (Civil Engineering) Ltd
Main Office
Burlands Farm
Charlwood Road
Crawley, West Sussex
RH11 0JZ
Call: 01293 544856
Address
---
P J Brown (Civil Engineering)Ltd
Burlands Farm
Charlwood Road
Crawley, West Sussex
RH11 0JZ
Reg. No: 07185077
Contact Us
---
Main: 01293 544856
Transport: 01293 844210
Accounts: 01293 844212
Email: mail@pjbrown.co.uk