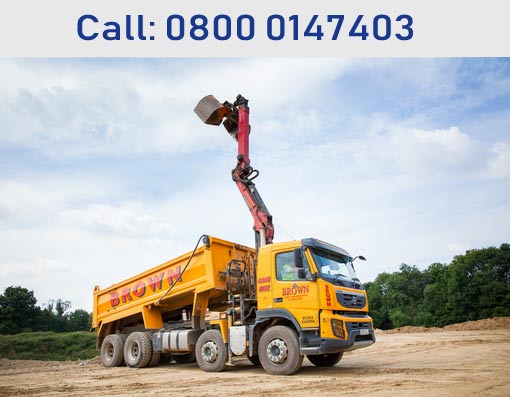 Welcome to P J BROWN (CIVIL ENGINEERING) LTD.
Are you residing in Petworth and looking for professional and affordable tipper hire services? P J BROWN (CIVIL ENGINEERING) LTD is your go-to tipper hire company.
You can benefit from our tipper hire service in Petworth to collect and move earth, excavated material, gravels, rubbles, and other inert wastes at a cost-effective rate. Whatever your tipper hire requirements are, our collection of reliable, modern, and well-maintained tippers will satisfy your needs. We have small-sized 8-wheeler tippers and large size 20- to 32-tonne tippers for hire.
Our tippers are rugged and can reach out to any difficult-to-access area. Take advantage of our tipper hire Petworth services today for site clearance, mucking, green waste disposals, debris disposals, earthmoving, building/construction projects, aggregate deliveries, etc.
Our tippers are operated by professionals who are friendly and very experienced. Our tippers can conveniently handle as much as 32tonne loads. This is why they are very efficient and quick to clear your site, move your loads, and help you complete your project smoothly and in time.
Our tipper hire service is available in and around Petworth whenever you need it. You can as well choose either same day or next day tipper hire service. Get in touch with P J BROWN (CIVIL ENGINEERING) LTD to discuss your tipper hire requirements.
P J Brown (Civil Engineering) Ltd
Main Office
Burlands Farm
Charlwood Road
Crawley, West Sussex
RH11 0JZ
Call: 01293 544856
Address
---
P J Brown (Civil Engineering)Ltd
Burlands Farm
Charlwood Road
Crawley, West Sussex
RH11 0JZ
Reg. No: 07185077
Contact Us
---
Main: 01293 544856
Transport: 01293 844210
Accounts: 01293 844212
Email: mail@pjbrown.co.uk