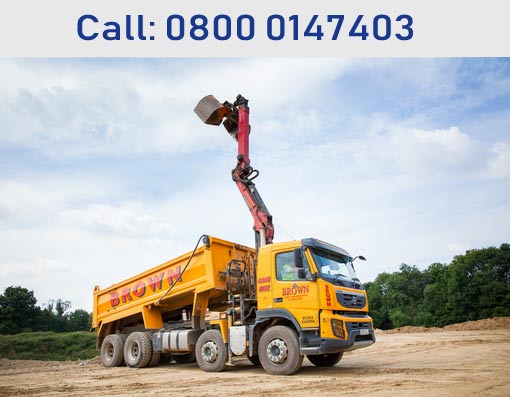 If you are a large builder or a small homeowner and you require grab hire services in Westerham, PJ Brown (Construction) Ltd. can help. Grab hire services have become extremely popular over other types of waste removal means because they bring certain advantages that are indisputable. For instance, the grab hire vehicles used for disposing the waste from a worksite are extremely versatile, being able to carry large amounts of waste, which implies fewer visits to the site. That, in turn, translates into less fuel consumption and human resource requirements, which obviously diminishes the costs related to this type of service.
On the other hand, the waste and rubbish which is transported are carried to a licensed facility where it is recycled as much as possible, helping the community maintain a green environment. Grab lorries are actually a type of lorries which have a grab arm attached to them. This implies that the rubbish and waste can be placed in the back of the lorry without having to hire another vehicle. Grab lorries can also work in the most difficult-to-reach sites and even over walls, representing the perfect solution for clients who want to dispose of large amounts of waste rapidly and without too much hassle or expenses.
Please do not hesitate to get in touch with us for more information about the grab hire services provided by PJ Brown (Construction) Ltd. in Westerham.
P J Brown (Civil Engineering) Ltd
Main Office
Burlands Farm
Charlwood Road
Crawley, West Sussex
RH11 0JZ
Call: 01293 544856
Address
---
P J Brown (Civil Engineering)Ltd
Burlands Farm
Charlwood Road
Crawley, West Sussex
RH11 0JZ
Reg. No: 07185077
Contact Us
---
Main: 01293 544856
Transport: 01293 844210
Accounts: 01293 844212
Email: mail@pjbrown.co.uk