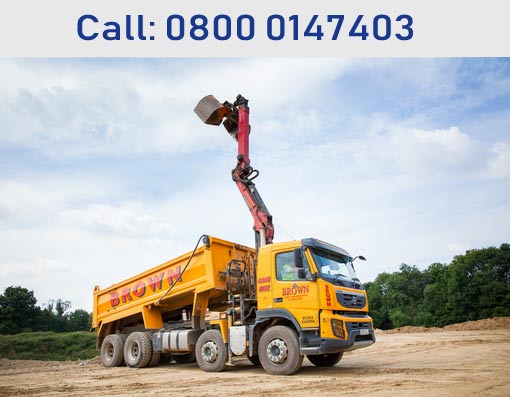 Here at PJ Brown (Construction) Ltd., we offer grab hire services in the entire Morden area, as well. No matter what the construction site size is, we can remove the waste even from the most difficult areas. If you have effectuated a significant refurbishment or a smaller fitting arrangement, the waste which resulted from these works has to be removed quickly and responsibly. This is where our team comes to help. Skip hire services have been utilized to remove waste and rubbish from work sites for quite a long time. This type of services is extremely popular because it is versatile and quick, conferring a modern and effective solution to other types of getting rid of the waste.
Our grab lorries are able to remove all the waste rapidly and with a simple procedure. The lorry comes to the site, it gathers the waste by utilizing an extendable arm, collects it on the lorry back and then it leaves to safely and legally transport it to the disposal facility. Besides gathering waste, our grab hire lorries can rapidly gather filled skip bags. There are worksites which can separate and get rid of their waste and rubbish by utilizing skip bags.
For additional information about our grab hire services in Morden, please contact us.
P J Brown (Civil Engineering) Ltd
Main Office
Burlands Farm
Charlwood Road
Crawley, West Sussex
RH11 0JZ
Call: 01293 544856
Address
---
P J Brown (Civil Engineering)Ltd
Burlands Farm
Charlwood Road
Crawley, West Sussex
RH11 0JZ
Reg. No: 07185077
Contact Us
---
Main: 01293 544856
Transport: 01293 844210
Accounts: 01293 844212
Email: mail@pjbrown.co.uk