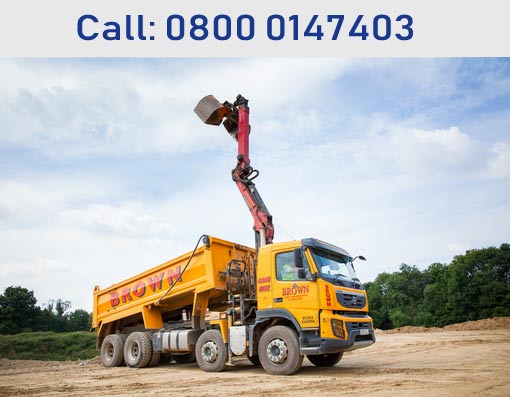 Welcome to P J BROWN (CIVIL ENGINEERING) LTD.
Our tipper hire Epsom is your best option if you need to move a small or large number of heavy materials. You can use our tipper hire for domestic projects, such as garden clearances, home renovation projects, and general clear-outs. Our tipper vans can easily move anything from green waste, soil, demolition waste, an old garden shed, and tree-cuttings, to junk furniture.
We also have tipper trucks for commercial and industrial use, especially for businesses where safety and productivity are of utmost importance. For instance, our tipper trucks can handle projects like building sites, construction work, landscaping and groundwork, highway maintenance, etc.
Here at P J BROWN (CIVIL ENGINEERING) LTD, we offer a wide range of tippers from the small-sized 8-wheel tippers to the large size 20-ton tippers and 32-ton tippers. All our tippers are available for hire on a half-day, daily, weekly, monthly, and yearly contracts according to your requirements.
If you want to find out more about our tipper hire Epsom service, please feel free to get in touch with us. All our tippers are frequently serviced, well-maintained to the highest standard, and available at affordable rates. Give us a call today on 0129 354 4856 or email us at mail@pjbrown.co.uk. Our customer service will promptly respond to attend to your need.
P J Brown (Civil Engineering) Ltd
Main Office
Burlands Farm
Charlwood Road
Crawley, West Sussex
RH11 0JZ
Call: 01293 544856
Address
---
P J Brown (Civil Engineering)Ltd
Burlands Farm
Charlwood Road
Crawley, West Sussex
RH11 0JZ
Reg. No: 07185077
Contact Us
---
Main: 01293 544856
Transport: 01293 844210
Accounts: 01293 844212
Email: mail@pjbrown.co.uk