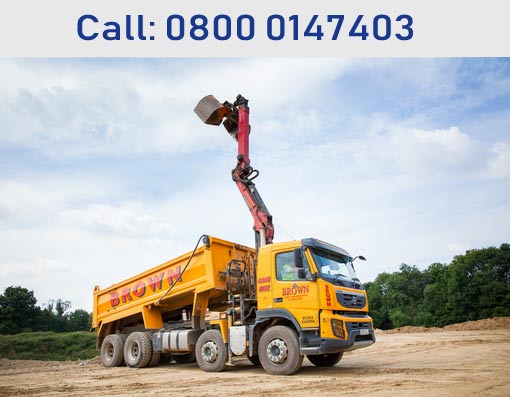 When you require a professional, fast and cost-effective way to clean your site from any rubbish or waste, PJ Brown (Construction) Ltd. is here to make sure all your requirements are met! We spare no effort in delivering our clients a service which is second to none in our area. Our experienced drivers are highly trained to leave a clean environment for our private or commercial clients. We are able to get rid of all types of waste, from topsoil, construction waste and demolition waste, to muck and sand or gravel.
Our grab hire company has been in business for numerous years and we treat all our clients with a top quality service to make sure that they come back to us in the future as well. We, therefore, have been able to build a strong reputation in our area and our clients are happy to refer us to their business partners, friends or family members. If you need an aggregate to be sent to your location, we are able to dispose of any type of loads, no matter how large. We will ensure the rubbish or waste from your site is transported and disposed of in a legal and reliable way so that you can enjoy a clear site and environment.
If you need our grab hire services in Croydon, we invite you to get in touch with us now!
P J Brown (Civil Engineering) Ltd
Main Office
Burlands Farm
Charlwood Road
Crawley, West Sussex
RH11 0JZ
Call: 01293 544856
Address
---
P J Brown (Civil Engineering)Ltd
Burlands Farm
Charlwood Road
Crawley, West Sussex
RH11 0JZ
Reg. No: 07185077
Contact Us
---
Main: 01293 544856
Transport: 01293 844210
Accounts: 01293 844212
Email: mail@pjbrown.co.uk