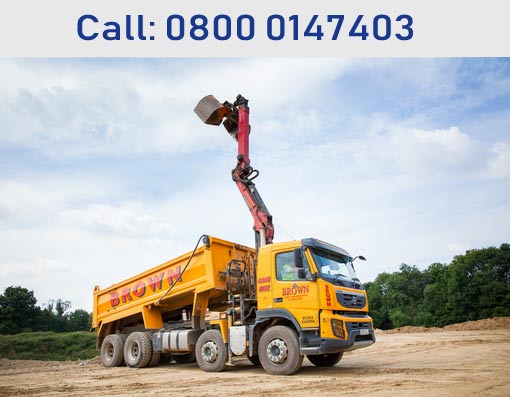 Although people are used to using skip lorries for waste removal, a majority of them only do this because they do not know the advantages of using a grab lorry over a skip lorry.  Our grab lorries can self-load and they operate with the use of a hydraulic arm and bucket to clear away waste from areas that would have otherwise been inaccessible. Whereas, if you are using a skip lorry, one has to go through the time-consuming task of loading. Grab lorries can even pick up waste already stored in skip bags.  The smaller designs of grab lorries make them better suited for large construction projects; grab lorries can dispose of large amounts of waste in one journey which would otherwise need several skips to fill.
Despite having the capacity to contain large quantities of waste, grab lorries are slight and agile enough to fit onto inaccessible sites. To avoid intruding in your side, waste can even be parked at the side of the road for a grab loader to remove. A grab hire is perfect for removing vast amounts of construction waste or other wastes such as garden, and building wastes. Here at Tulse Hill, grab hires do not cost as much as its substitutes in waste removal.
P J Brown (Construction) Ltd
Main Office
Burlands Farm
Charlwood Road
Crawley, West Sussex
RH11 0JZ
Free Phone: 0800 0147403
Our experienced and dedicated team have made it their priority to provide an excellent standard muckaway and groundworks services for over 40 years.
Address
---
P J Brown (Construction) Ltd
Burlands Farm
Charlwood Road
Crawley, West Sussex
RH11 0JZ
Reg. No: 2743978
Contact Us
---
Transport: +44 (0) 1293 844210
Groundworks: +44 (0) 1293 300010
Accounts: +44 (0) 1293 844212
Fax: +44 (0) 1293 571164
Email: mail@pjbrown.co.uk
Groundworks Email: info@pjbgw.co.uk