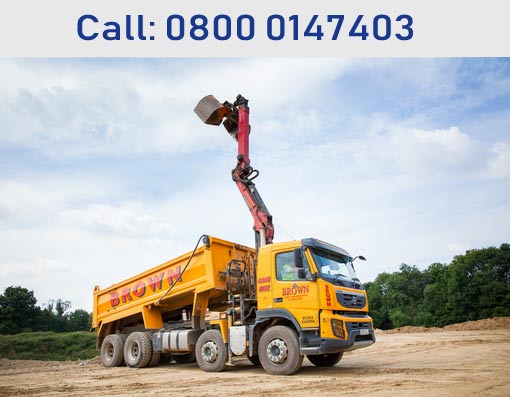 Do you have a construction site in Selhurst that just does not look right due to the presence of construction waste? Does your project create tremendous amounts of inert waste? Inert waste is waste that does not undergo any chemical or biological reaction and will not decompose. Examples of inert waste are sand and concrete. Do you have excavated topsoil littering your site, soil obtained from pit, trench or topsoil excavation? Is the sight of broken up concrete not allowing you to picture the dream site you had envisioned at the start? Are you thinking of the easiest way to get it all out of the way and clean up your site? Then what you need is our Selhurst grab hire service. At Selhurst, we offer waste removal, aggregate transportation and muck away services.
Muck away, which is also sometimes called cart away, is an inert waste removal system that is used by individuals, and businesses embarking on a site clearing project. If your project requires the removal of huge amounts of waste from your site, then you are best of hiring one of our Grab trucks to do this at the quickest rate. Contact our Selhurst office to hire one of our Grab trucks now.
P J Brown (Construction) Ltd
Main Office
Burlands Farm
Charlwood Road
Crawley, West Sussex
RH11 0JZ
Free Phone: 0800 0147403
Our experienced and dedicated team have made it their priority to provide an excellent standard muckaway and groundworks services for over 40 years.
Address
---
P J Brown (Construction) Ltd
Burlands Farm
Charlwood Road
Crawley, West Sussex
RH11 0JZ
Reg. No: 2743978
Contact Us
---
Transport: +44 (0) 1293 844210
Groundworks: +44 (0) 1293 300010
Accounts: +44 (0) 1293 844212
Fax: +44 (0) 1293 571164
Email: mail@pjbrown.co.uk
Groundworks Email: info@pjbgw.co.uk