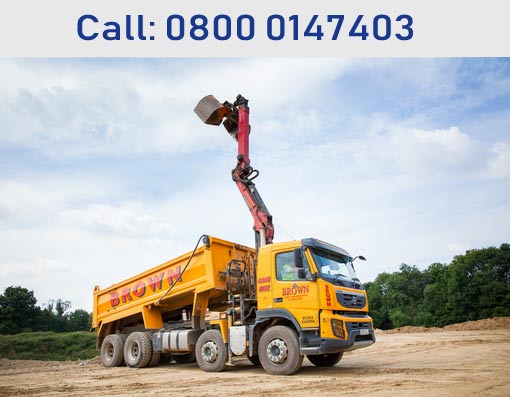 Welcome to P J BROWN (CIVIL ENGINEERING) LTD.
Our tipper vans and trucks are of various sizes and are well-maintained and serviced regularly. They are fitted with a modern tracking system, which enables us to always communicate quickly and easily with operators as well as monitor our tipper vans and tippers wherever they are. Also, our tippers comply with the UK's Health and Safety regulations.
We are so committed to customer satisfaction. That's why we always strive to offer nothing less than high-quality and reliable tipper hire services for our customers in Godalming. We always work closely with each customer to ensure that we meet their specific tipper hire needs and requirements.
Our tippers also feature amber beacons and universal towing equipment on request. If you have any questions related to hiring tipper vans or trucks in Godalming, don't hesitate to get in touch. You can call us at 0129 354 4856 or email us at mail@pjbrown.co.uk. Our customer service will promptly respond to attend to your need.
We will offer expert advice on which tipper hire service will best suit your project requirements. More so, we will offer guidance and support all through the hire period. Get in touch with P J BROWN (CIVIL ENGINEERING) LTD today.
P J Brown (Civil Engineering) Ltd
Main Office
Burlands Farm
Charlwood Road
Crawley, West Sussex
RH11 0JZ
Call: 01293 544856
Address
---
P J Brown (Civil Engineering)Ltd
Burlands Farm
Charlwood Road
Crawley, West Sussex
RH11 0JZ
Reg. No: 07185077
Contact Us
---
Main: 01293 544856
Transport: 01293 844210
Accounts: 01293 844212
Email: mail@pjbrown.co.uk