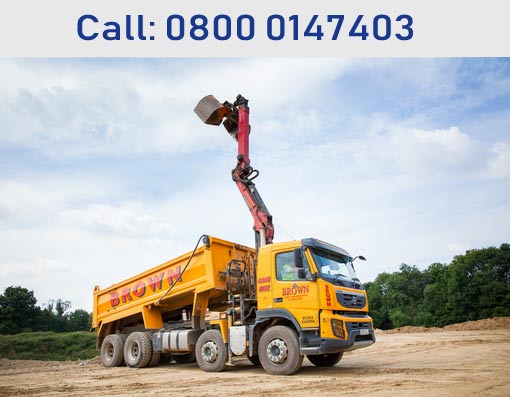 The tipper trucks or dump trucks you can say are heavy-duty trucks with a robust engine and higher torque that allows them to haul bulk materials. The material that you can carry in bulk, in tipper trucks can be anything from raw potatoes to rocks asphalt, gravel, or sand. The easy and faster loading and unloading systems of the tipper trucks are made easy by the advanced hydraulics. 
Considering the wide use and benefits of tipper trucks, the PJ Brown Civil Engineering Ltd has made it easier for you to hire tipper trucks by offering tipper hire Hersham services. Other services that PJ Brown provides you grab hire and land engineering. For these services, we own extensive and up-to-date vehicles and plant machinery that are inspected regularly so that that they can provide optimum performance. 
Moreover, you can get grab lorries with 8 wheels and 32 tones gross capacity and tipper trucks with 8 wheels with 32 tones capacity. Whatever you need, the PJ Brown Civil Engineering has got it for you. To get the tipper hire Hersham services, you can contact us on 01293 544856. If you want to learn more about us and our services, you can visit our website https://www.pjbrown.co.uk/. 
P J Brown (Civil Engineering) Ltd
Main Office
Burlands Farm
Charlwood Road
Crawley, West Sussex
RH11 0JZ
Call: 01293 544856
Address
---
P J Brown (Civil Engineering)Ltd
Burlands Farm
Charlwood Road
Crawley, West Sussex
RH11 0JZ
Reg. No: 07185077
Contact Us
---
Main: 01293 544856
Transport: 01293 844210
Accounts: 01293 844212
Email: mail@pjbrown.co.uk