Tipper Hire Mannings Heath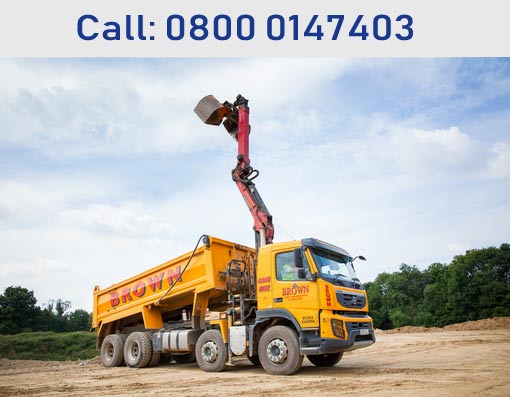 Tipper trucks are used for a variety of purposes such as site clearing for construction, quarry work, or demolition work or to carry aggregate, soil, sand, or grain from and to the site of construction. For all these purposes, you can also hire a tipper truck at very competitive rates. If you don't know where you can hire the tipper trucks, we are here to tell you the best service you can get. 
The PJ Brown Civil Engineering Ltd. offers you grab hire, tipper hire, and land engineering services. In tipper hire services, you can get a tipper truck you want from a wide variety. If you want the standard tipper truck, the PJ Brown provides you with the standard one. Moreover, you can also get others such as single and double cabs, grabs, and cages. 
What would be the best vehicle for you depends on the requirements of your project? You can get a tipper truck of 3.2 tones capacity to the larger tipper trucks of 32 tones. We will help you choose the best one for your project. Just contact us on 01293 544856 and get the tipper hire Mannings Heath services. To find out more, visit the website https://www.pjbrown.co.uk/. 
P J Brown (Civil Engineering) Ltd
Main Office
Burlands Farm
Charlwood Road
Crawley, West Sussex
RH11 0JZ
Call: 01293 544856
Address
---
P J Brown (Civil Engineering)Ltd
Burlands Farm
Charlwood Road
Crawley, West Sussex
RH11 0JZ
Reg. No: 07185077
Contact Us
---
Main: 01293 544856
Transport: 01293 844210
Accounts: 01293 844212
Email: mail@pjbrown.co.uk