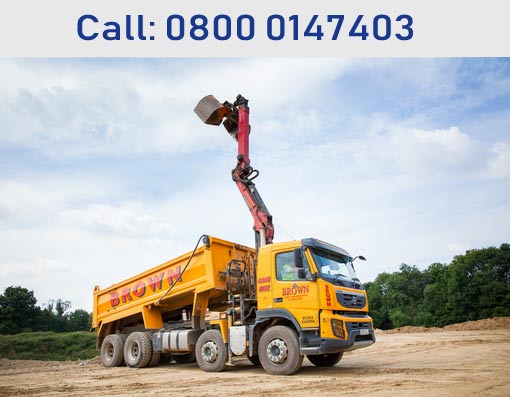 Welcome to P J BROWN (CIVIL ENGINEERING) LTD.
We provide tippers to collect and dispose of all demolition and green waste, such as plant cuttings, trees, rubbles, rubbish, and other waste materials from your construction site. Our tippers can also handle the supply and delivery of aggregates and materials like Ballast, Type1 MOT, Topsoil, Shingle – 10mm and 20mm, sharp and building sand, Muck (clay), etc.
Our tipper hire service is very affordable and our tippers are reliable and eco-friendly. We have many years of experience in providing tipper hire services to customers in Langley Vale from several industries, which include:
Construction
Groundworks
Local authorities
Road building
The utility industry
Our tippers are well-equipped to provide you with the best solution for your tipper hire requirements, irrespective of where you live in Langley Vale. Aside from Langley Vale, we also have several offices around the UK. This makes it possible and easier for our customers to collect and drop off their hired tipper at their convenient locations.  
If you have lots of loads, materials, or waste to move, using our tipper hire service in Langley Vale is easier, quicker, and more affordable than most other options. So, if you're busy and desperate to get your work done in time, consider tipper hire service from P J BROWN (CIVIL ENGINEERING) LTD.
If you need further information about our tipper hire services in Langley Vale, call us at 0129 354 4856 or email us at mail@pjbrown.co.uk. Our customer service will promptly respond to attend to your need.
P J Brown (Civil Engineering) Ltd
Main Office
Burlands Farm
Charlwood Road
Crawley, West Sussex
RH11 0JZ
Call: 01293 544856
Address
---
P J Brown (Civil Engineering)Ltd
Burlands Farm
Charlwood Road
Crawley, West Sussex
RH11 0JZ
Reg. No: 07185077
Contact Us
---
Main: 01293 544856
Transport: 01293 844210
Accounts: 01293 844212
Email: mail@pjbrown.co.uk