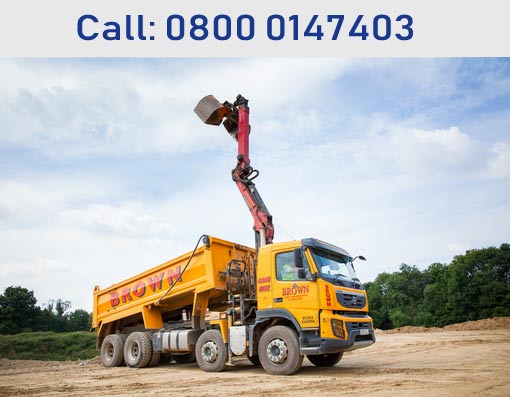 If you need to hire a grab hire lorry in Petts Wood, PJ Brown (Construction) Ltd. has a wide range of grab trucks to select from. Our lorries can carry any type of load, no matter the size or the nature of the waste. We ensure all the rubbish and waste we dispose you of is transported into a licensed facility where it is recycled as much as possible, maintaining the appropriate work ethic towards the environment. When you are effectuating a refurbishment, there will be plenty of waste material which will result from it which has to be disposed of.
Our trucks are able to do this job quickly, safely and at an affordable cost. Our lorries can reach even the most inaccessible areas, which implies less work on your part. Because they are able to carry large volumes of waste, our lorries will not require several trips to the worksite, which also diminishes the costs related to the fuel consumption needed to clean the site. Sometimes, we are called to clean sites in Petts Wood where our clients have put down a driveway. This implies working with great volumes of soil. Our grab hire company can assist you in cleaning such a work site as well since no volume is too great for us.
We invite you to speak to us if you would like to learn more about the grab hire services we provide in Petts Wood.
P J Brown (Civil Engineering) Ltd
Main Office
Burlands Farm
Charlwood Road
Crawley, West Sussex
RH11 0JZ
Call: 01293 544856
Address
---
P J Brown (Civil Engineering)Ltd
Burlands Farm
Charlwood Road
Crawley, West Sussex
RH11 0JZ
Reg. No: 07185077
Contact Us
---
Main: 01293 544856
Transport: 01293 844210
Accounts: 01293 844212
Email: mail@pjbrown.co.uk