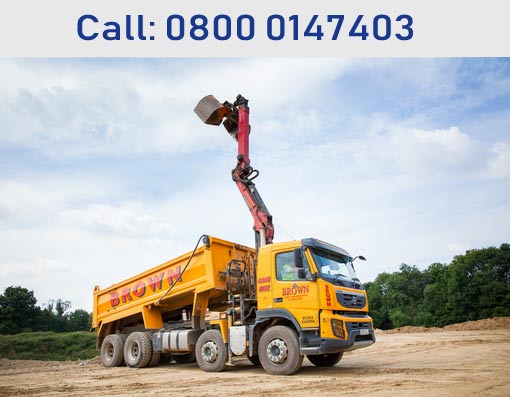 Are you thinking of getting your site cleaned up, getting site rubbish removed and recycled properly, then our grab hire service here in Tolworth is just what you need. We would come and clean up your site at your earliest convenience. We would haul unwanted items out of your property, giving you the desired neat look you had in mind before embarking on the project in the first place. Our staff work at a fast pace and are very efficient. We would be in and out of your site without causing you the least inconvenience.
A grab hire is perfect for removing vast amounts of construction waste or other wastes such as garden, and building wastes. Grab hires do not cost as much as its substitutes in waste removal. Our grab lorries make use of a hydraulic arm, specially designed to be reachable to all kinds of areas which would otherwise be inaccessible.
Our grab lorries would pick up such waste as soil, concrete, hedge trimmings e.tc and would work safely and efficiently to put your site in the perfect state you without any interruptions to your project. We also have GPS enabled trucks that enable constant communication with our drivers
P J Brown (Construction) Ltd
Main Office
Burlands Farm
Charlwood Road
Crawley, West Sussex
RH11 0JZ
Free Phone: 0800 0147403
Our experienced and dedicated team have made it their priority to provide an excellent standard muckaway and groundworks services for over 40 years.
Address
---
P J Brown (Construction) Ltd
Burlands Farm
Charlwood Road
Crawley, West Sussex
RH11 0JZ
Reg. No: 2743978
Contact Us
---
Transport: +44 (0) 1293 844210
Groundworks: +44 (0) 1293 300010
Accounts: +44 (0) 1293 844212
Fax: +44 (0) 1293 571164
Email: mail@pjbrown.co.uk
Groundworks Email: info@pjbgw.co.uk